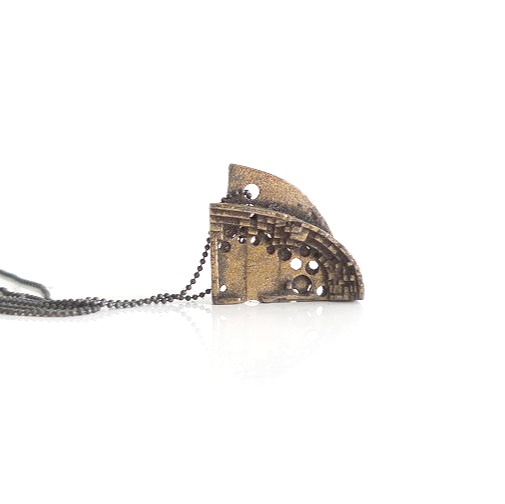 Shop
Luna Bonita Steel Pendant
The high desert connects with its inhabitants in unique ways. The haunting feeling of this landscape comes from its ability to preserve a sense of vast time and memory in the silence and distance of its open spaces and in the water carved sandstone canyons. In the area of the Chaco Canyon a civilization etched into the landscape a memory of their culture, preserved by the climate, and still speaking to us in a language of form that is abstract but also visceral. The site has been studied for over one hundred and fifty years and it still keeps many secrets. Pueblo Bonito is divided into two by a precisely aligned wall, running north to south, through the central plaza. This pendant is folded along that wall.

The pendant is 3-D printed in Denmark from stainless steel. The base metal is stainless steel which is infused with bronze. I then weathered it to achieve a type of relic patina. This pendant combines the ancient form of the site with contemporary technology. Removing the pueblo from its context changes its significance. The language of the form speaks to everyone differently. To some the pendant resembles a meteorite. Others recognize Pueblo Bonito and it surfaces their own connections to place. This study is straining to decipher what lies in an echo of another time and place, another world.
Weathered bronze infused stainless steel pendant


MEASURES 1" long, 1" wide, 0.25" deep, 20" oxidized sterling silver bead chain.
Each item is made to order and takes 4-6 weeks to ship. All orders are final.
Click on Additional Info + below for pairing recommendations.